L.A.'s Latinx Sugar Mamás
Angelenos are known to have a sweet tooth.
These L.A. Boss Moms did something about it and struck gold.
By Anabel Marquez
Photography & Video by Napoleon Mata
Production Assistants: Stephen Molina & Nancy Lozano-Stecyk
Make-Up & Hair Touch-Ups by On Location Glam
Even though you've likely stopped by many ice cream establishments, pie and donut shops, cupcake businesses and candy stores throughout Los Angeles County— you haven't given your palate the dose of sweet it demands if you've never tried one of the confections crafted by seven local moms who launched businesses infusing traditional desserts with Latin flavors reminiscent of their cultural upbringing.
Their creations include ingredients and toppings any Latinx Angeleno would recognize— Maria cookies, Tajin chili powder, Chamoy, (a Mexican condiment made with fruit, chilies and lime juice), De La Rosa Mazapan peanut candy as well as familiar flavors such as café de olla (ceramic-pot brewed coffee), Dulce de leche, Mole, Cajeta and Horchata.
For Ashley Leon-Vasquez, owner of popular coffee shop, Horchateria Rio Luna— it was as simple as mixing America's love of coffee with Mexico's famous rice and cinnamon drink known as Horchata. Together with her husband they opened a storefront in Paramount and one day, Vasquez took a piece of Mexican sweet bread, sliced it in half, slathered Horchata ice cream and drizzled it with Cajeta (thick, sweetened caramelized syrup made of goat's milk). The Concha Ice Cream sandwich became an overnight sensation. Even the local Univision affiliate (KMEX-34) called to do a TV feature on her coffee shop. To date, it's not uncommon to see customers waiting in long lines at Horchateria Rio Luna eager to indulge in a Concha Ice Cream sandwich, a Strawberry Paleta Frappé or an Horchata Iced coffee.
While Leon-Vasquez keeps busy managing her stores, the other ladies we interviewed are actively working their way toward a brick-and-mortar shop of their own.
What's more, each of these women have brought their dessert businesses to the forefront while raising small kids. One of them was motivated by her need to cover the cost of diapers, another was looking for a way to quit her full-time job while fighting post-partum depression and each of them share stories of having enthusiastic kids frequently hanging around their kitchens or spreading the word about their moms' hustle, ready to help with the dessert business.
We brought the ladies together for an interview and photo shoot because well, they each represent a creative dessert idea whose time has come.
Meet the #bossmoms responsible for giving us a new source of sweet, sugary bliss and for offering proof that collaboration over competition is, in fact, a real thing in Los Angeles, California.
(Listed in alphabetical order, by last name):
It brings her to tears to remember the stressful days of having small children and the expense that came with raising her babies
But Melanie Fuentes, who lives in the San Fernando Valley with her husband and two kids, was driven to create a new stream of income that would offset her out of-pocket-expenses for diapers and formula. That was nearly five years ago.
Today, her gummy candy creations frequently sell out when she's a vendor at Farmers' Markets and festivals throughout SoCal. Her first event was at Downtown L.A.'s Molcajete Dominguero to whom she credits the rise of her brand's popularity.
"It (Molcajete Dominguero) exposed me to a community I never knew existed," she recalls.
Fuentes took her love of gummy bears to the kitchen where she turned her cooking space into a "chemistry lab" of sorts. She experimented with various ingredients, recipes and molds until she formulated the perfect chili-infused gummy bear. Eventually, she decided to trademark the name ChilOso Gummy, a play on words that incorporates enchiloso which describes something spicy and oso, which is Spanish for bear.
"People ask me 'why don't you hire employees?' Believe it or not, the most satisfying part of this job is meeting people. I just really enjoying going out and being with the people," she says.
But Fuentes isn't new at creating unique, tiny things that make people happy. Prior to launching ChilOSO Gummy, she used to make miniature dollhouse food prototypes under her company name at the time, "Mel's Miniatures". Her craft was so impeccable that she caught the attention of American Miniaturist Magazine and was featured along with her tiny masterpieces.
"That's why they say Mompreneurs are chingonas…because we're balancing work, we're balancing kids and a side hustle at the same time," she says.
Melanie shares her experience with ChilOSO Gummy:
---
SIlvia & Elizabeth Garcia — Churro Garage
This mother-daughter duo has elevated the churro-eating experience to a higher dimension, offering customers a fresh new crunchy taste of deliciousness.
They created a unique take on the already popular deep-friend dough sticks known to be covered in sugar and cinnamon.
The mom brought the idea to the table and the daughter ran with it.
"We were having dinner and my mom says, 'Hey, I was thinking… have you ever thought about maybe starting a little business and making churros?'," recalls Elizabeth Garcia.
Her mom, Silvia Garcia, had been brainstorming ideas for a product that her 15-year old son with special needs and food allergies, would enjoy.
"We had spoken about her brother who's autistic," recalls Silvia Garcia. "It was really important for us to create a product that was good for him…allergy-friendly."
Together with Elizabeth's husband Chris Mora, they came up with "Churro Garage" and got creative with their flavor line-up.
They make vegan churro batter from scratch (no nuts, no dairy, no eggs) and customers have responded enthusiastically.
The most popular item to date is the peanut butter & jelly with bacon churro, which is sure to land on every dessert aficionado's bucket list. They also offer cotton candy churros, strawberries 'n cream churros and tres leches churros. You can often find the Churro Garage booth at breweries, festivals and SoCal events.
---
If there was ever a baker who knew how to give everyone's favorite mini cake a whole new cultural status—it's Karina Jimenez.
She figured out a way to bring some popular flavors of Mexican cuisine into a traditional cupcake and our lives have never been the same. Viva Los Cupcakes, indeed!
"When I started my business I knew I wanted to make Mexican-inspired cupcakes…I like to eat, I grew up with all these foods and desserts and street snacks," she says.
Jimenez' signature flavor is the tamal con mole cupcake—which tastes exactly like its title. Just think of a warm corn tamale dipped in Mexican Mole with sesame seeds for a sweet, subtle crunch.
Her idea for this popular flavor was born from a visit to La Guelaguetza Restaurant, a Oaxacan food establishment in Koreatown.
"I was actually having lunch at La Guelaguetza. I love black mole. That's what I always eat when I'm there" says Jimenez. "So I thought, I could turn this into a dessert!"
Jimenez' unique creations have brought her plenty of media attention as well as customers from all across the country and she continues coming up with new flavors and collaborating with local businesses for unique taste experiences, all while raising her baby girl.
Other popular Viva Los Cupcakes flavors by Jimenez include: Margarita, Champurrado (a warm and thick Mexican chocolate drink, prepared with ground maize flour) and Jamaica (Hibiscus).
Here's How Karina Jimenez came up with her genius idea:
---
Ashley Leon-Vasquez was born in Watts and became a competitive swimmer, a professional dancer and an Anthropology major at UC Riverside.
"My major was NOT a degree in business as people would assume," she says.
But Leon-Vasquez is thriving in her role as the co-owner of popular coffee shop, Horchateria Rio Luna in the city of Paramount. Most recently, she's been serving her community and her gente with her latest business venture— a donut shop called Donas she opened with her sister. At Donas customers can choose from sweet selections such as the Bidi Bidi Bom Bom donut which is covered in purple edible glitter representing the late Tejano star Selena Quintanilla's famous purple outfit and song of the same name. There are also donuts decorated as Frida Kahlo and donuts that have Horchata flavored glaze.
Leon-Vasquez' coffee and donut shops are so popular, plans are underway to open additional locations.
Her daughter and son, ages 10 and five respectively, always offer to help, staying loyal to the idea of running a family business.
"My daughter actually works at the donut shops in the summer. She does retail and customer service as well as cleans the restrooms," says Leon-Vasquez. "It's important for them to learn hard work at a young age.
Leon-Vasquez is getting ready to welcome baby number three, which is fueling her motivation to "Expand!, reach a larger audience, work hard for the next ten years and retire," she says.
Listen to Ashley talk about one of the best-selling desserts at Horchateria Rio Luna: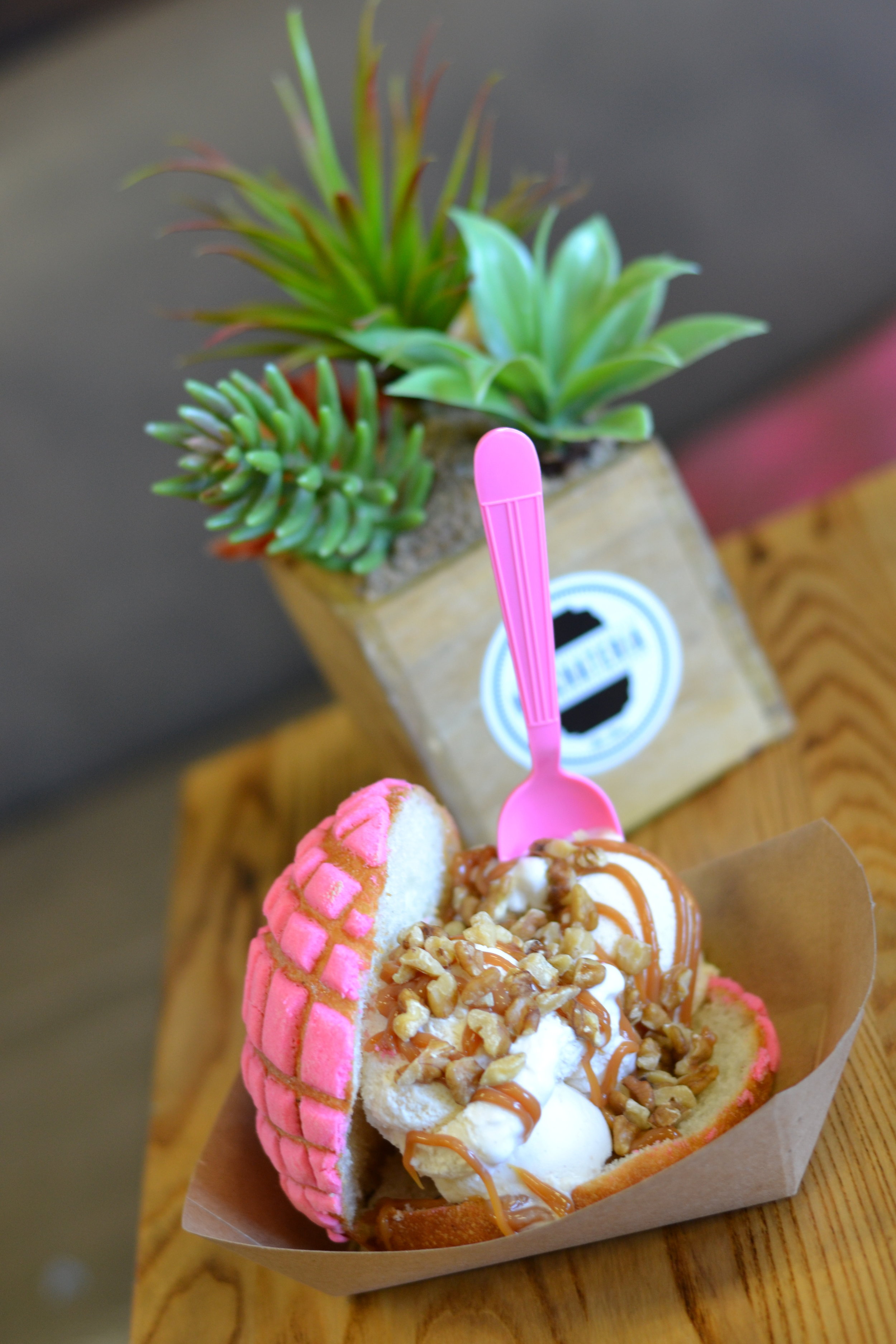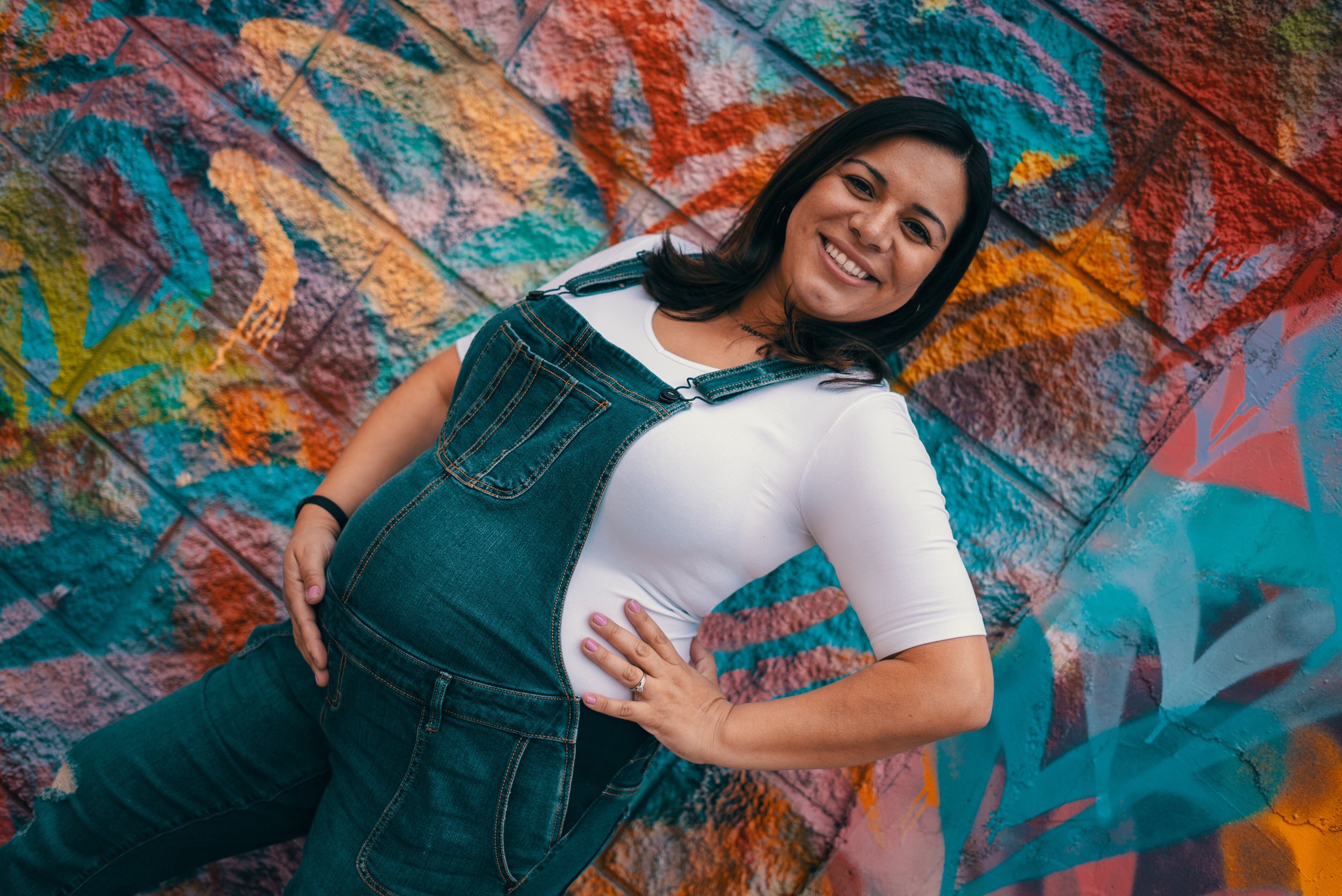 ---
Following her own mom's example, Valerie Mejia is the boss behind Pebbs Manzanas, a candy apple service that delivers chili and tamarind fruit flavored candy apples and other Chamoy-covered goodies to Los Angeles-area customers.
A single mom of 9-year old twin boys, Mejia says she learned the unique candy apple recipe and was encouraged to launch her own side hustle, from her mom who runs a similar business.
"Once (my mom) taught me how to make the original Manzana de tamarindo (Tamarind fruit candy apple), I ran with it," says Mejia.
She created several additional recipes that incorporate various Mexican flavors. Then she gave them each individual names such as La Loca, La Minnie Mouse and El Diablito.
Mejia realized her candy apples were gaining traction when a popular local artist called her for a delivery.
"I felt so confident when Sand One invited me to her penthouse in DTLA back in 2014 to deliver apples," recalls Mejia. "The next day she came to my home in Lawndale to get some more. She gave me a shout out on social media and orders started to kick in like crazy…I was the happiest!"
Mejia works full-time in an office setting but every week she finds herself receiving numerous order requests via text message and email. She starts working on her orders in the evenings after making dinner for her boys, who in turn help their mom both in the kitchen and by promoting her apples.
"My Angel baby loves giving out samples and giving out my business cards! He's always bringing me more clientele by word of mouth," she shares.
Mejia's long-term goal?
"To open my business and ship my candy apples all over the world," she says.
On the value of integrating her culture into her successful biz:
---
A few years ago, when Lucia Rios, the owner of Twisted 4 Sugar, was dealing with postpartum blues and workplace anxiety, she decided to quit her job, heal, and began her quest to self-employment.
She loved cotton candy and figured she had nothing to lose by purchasing a cotton candy machine and ordering a few supplies and ingredients.
When she spun her first cotton candy ball using the sugar varieties she had ordered, Rios wasn't thrilled about the taste.
"They were so nasty. I was super bummed out, super upset!," she shared.
But Rios refused to give up on the idea and focused on making her own cotton candy sugar flavors adding elements that represented Mexican comfort foods and desserts she had enjoyed growing up in Los Angeles.
"I loved going to the alleys and I remember seeing the fruit carts and the aguas," she says. "Even comfort foods and desserts like arroz con leche."
Twisted 4 Sugar is now among the most popular cotton candy carts-for-hire in Los Angeles. Rios offers a long list of cotton candy flavors including Guava, Mexican Hot Coco, Café de Olla and Watermelon with Tajín. She also offers shipping through her cotton candy tubs available for purchase online.
When she's not catering an official Disney Princess event, she may be offering samples at a Foodie Festival or handing specially-themed cotton candy desserts at a clothing store grand opening, welcoming celebrities like Khloe Kardashian.
"It's definitely surreal," says Rios of her company's success. "Much of the growth is still surprising to me. It makes you believe that the dream is really attainable."
More on her popular cotton candy empire:
---
Amy Saravia always knew that hand-dipped ice cream was a classic frozen treat that not many could resist.
When she launched Gourmeletas, which combines the words "gourmet" and paletas (Spanish for popsicles), she added a unique spin to her ice cream menu. Aside from offering traditional flavors, Saravia and her husband incorporated the likes of mango con coco and coconut ice cream dipped in chocolate with Mazapan crumbles.
"Hand-dipped ice cream is a timeless dessert. A lot of the older generations can remember the classic ice cream and chocolate banana stands," Saravia says. "We took this timeless idea and brought it to a new generation."
Saravia and her husband had decided to launch a pizza catering company with a dessert menu that included funnel cakes, churros and hand-dipped ice cream.
Of the different offerings, the hand-dipped ice cream was an instant hit and the biggest crowd-pleaser. Today, Saravia focuses on Gourmeletas, full-time.
Her signature pink hand-dipped ice cream cart is in high demand which means she rarely gets days off. In fact, the mom of three has interacted with so many customers, she started asking for suggestions and listening to their ideas. Her customers, she says, encouraged her to develop her recently launched GourmeLatte mobile espresso service.
"We started in a different path, but this concept set its own course and that gave us confirmation (that) we were steering the right path," says Saravia. "Since day one, a store front has been a goal of ours. The right location and the right time will be key."
Listen to Amy explain her popular dessert product and upcoming plans:
---
The Editor of Mommy In Los Angeles® Magazine discusses interviewing these Latinx Dessert L.A. Mompreneurs ahead of the November 2019 print release:
---
L.A.'s Queens of Sugar & Spicy & Gummy & Icy
---
Mommy In Los Angeles® Magazine invited numerous local Latinx dessert mompreneurs for this special feature which will also appear in the magazine's 2nd annual print edition (coming out November 2019). We had the pleasure of welcoming these women for an afternoon photo session filled with camaraderie, laughs and great conversation. The energy, positivity and sisterhood shared among these ladies was real. Each mompreneur has achieved success in her own right but their genuineness and humility made it clear they love what they do and love the customers they serve.
We encourage Los Angeles to support these women (you can start by clicking on the link to their sites located next to each name) and embrace the uniqueness that comes with living in a city where a person's culture can become a treat for all.
#LAMomsRock #EveryMomHasAStory
All Rights Reserved.